Welcome to the CREIA San Diego Chapter (SD)!
"The Best in the West"
Quick Links
Chapter Leadership
Chapter Meetings
Chapter Contact Information
Chapter Meeting and Toolbox Photos
About the Chapter
Chapter Membership
CREIA Homepage
Chapter Map
Chapter Leadership
Chapter President
Gary Gramling, CCI

Chapter Vice President




Al Silva, CCI

 Chapter

Treasurer




Daniel Song, CCI
Dennis Parra and Cliff Sims - ASHI representatives.
Chapter Meetings
Elijah's Restaurant
7061 Clairemont Mesa Blvd., Suite 210
San Diego CA 92111
Chapter Meeting: $40 if you RSVP or prepay by PayPal no later than the Saturday prior to the meeting by 5:00pm. Otherwise, $50 at the door. (New pricing as of July 2022)
Meetings are the first Tuesday of each month.
Pre-Meeting Check-In: 5:00pm
Pre Meeting Session: 5:15-6:15pm
Dinner Meeting Check-In: 6:15-6:30pm
Dinner Meeting: 6:30-8:30pm
You will receive one CREIA CEC for each hour of training.
The pre-meeting fee is FREE; however, reservations are required if you are staying for dinner.
Each month a new section of the 2006 International Residential Code (IRC) is covered in depth. You will have an opportunity to learn the important provisions in each section of the International Residential Code by attending these meetings each month throughout the year. We have gotten very good reviews from all the members who have participated in this opportunity. You can start attending at any time, and if you stick with it, you will complete the entire IRC in one year. All participants are encouraged to bring their copy of the 2006 IRC to the meeting and to review the current sections of the IRC prior to the meeting.
The benefits of these training sessions are threefold:
To prepare associate members for the CREIA exam.
To prepare Certified CREIA Inspectors for the ICC Residential Combo exam which in turn leads to the New Construction Specialist designation.
To prepare Certified CREIA Inspectors for the MCI exam.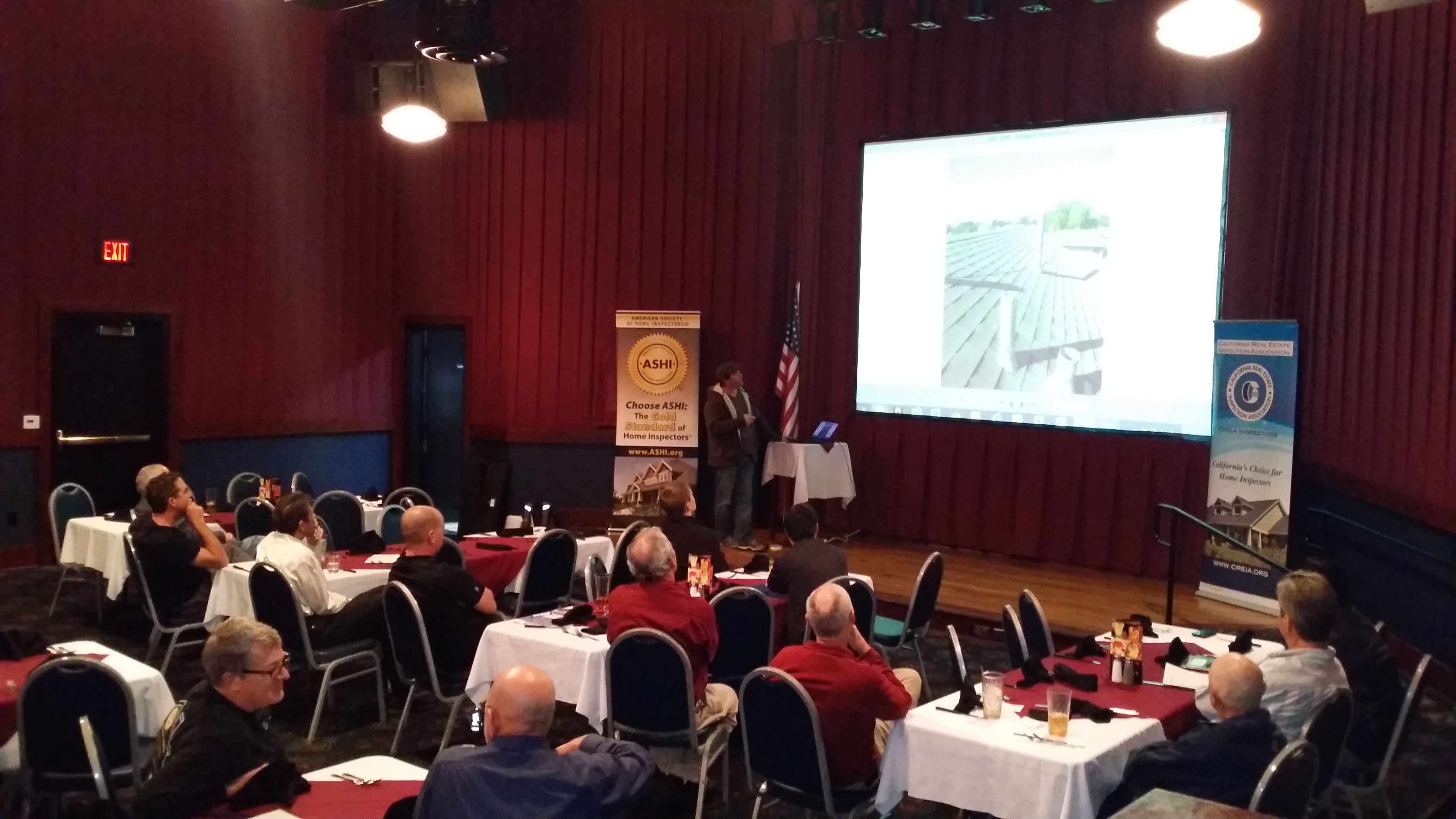 Meeting Photos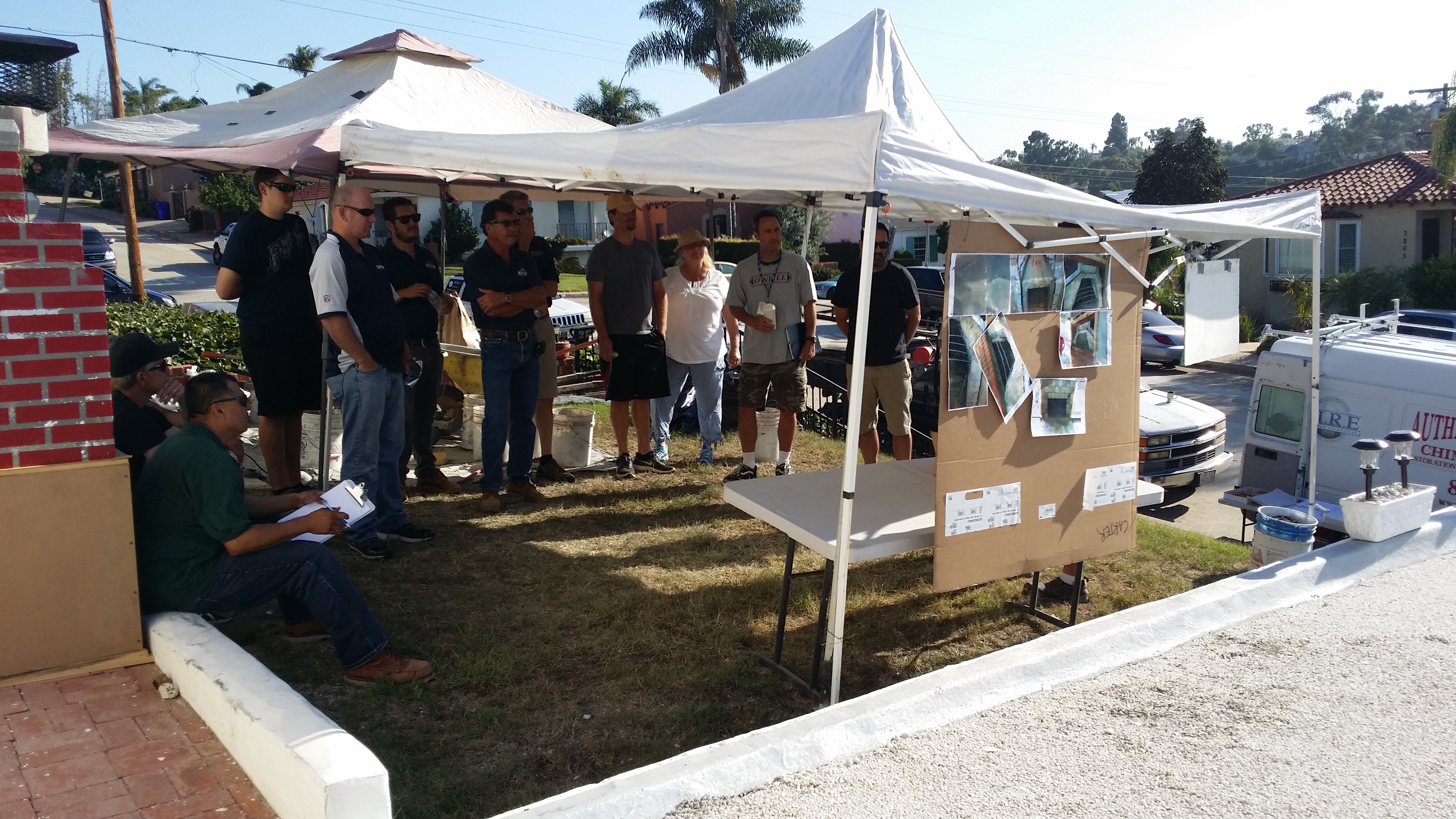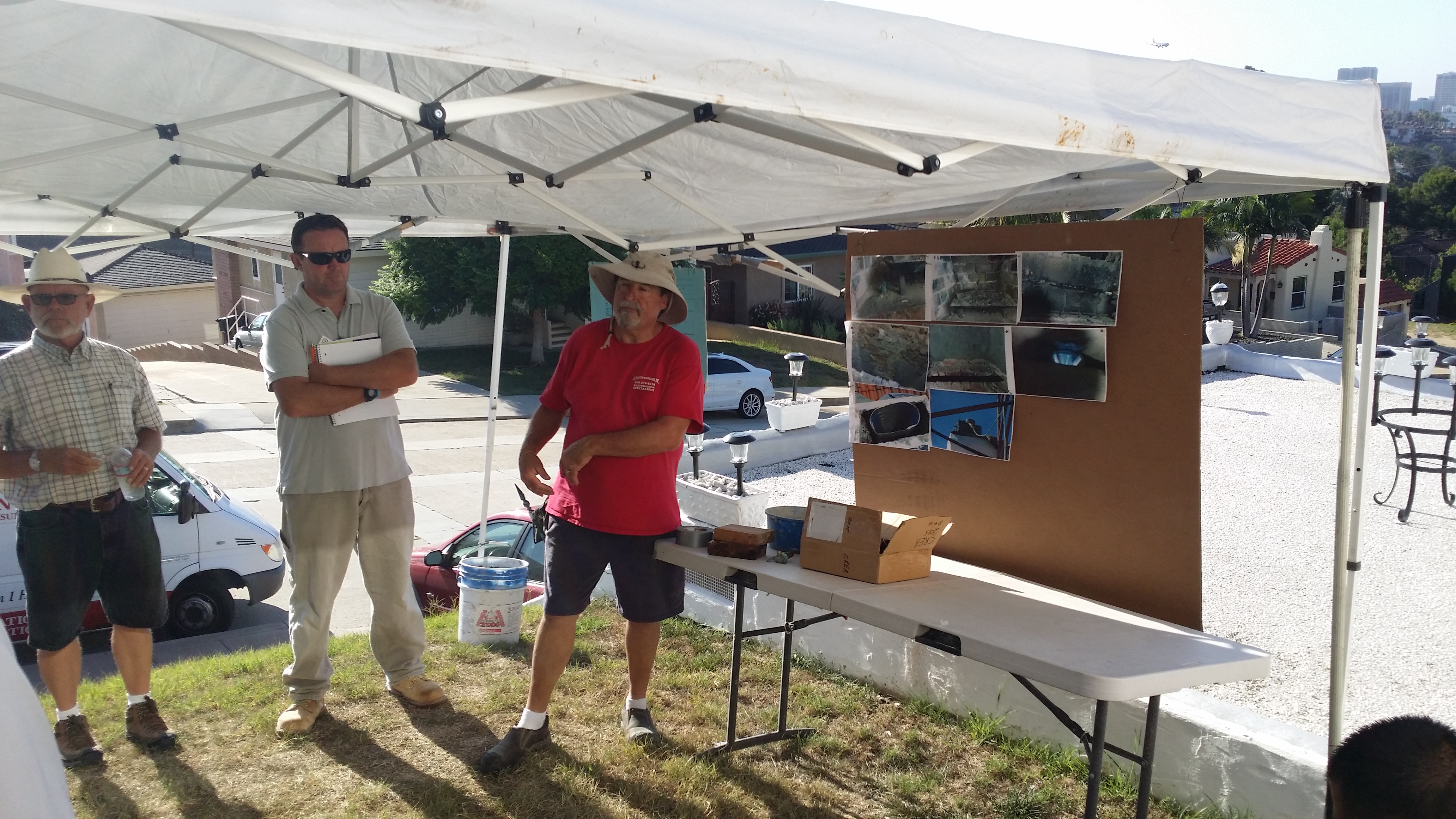 About the Chapter
The CREIA San Diego Chapter is proud to have as its motto "The Best in the West." Members of the CREIA San Diego Chapter subscribe to unparalleled service to the real estate community, buyers, and sellers. We believe in continuing education to increase skills and knowledge, and professionalism, which are the keys to success in providing quality professional services to our clients. Our dedication to clients is reflective in a level of service that meets client needs for an impartial, unbiased, and professional property evaluation. We look forward to fulfilling all of your real estate inspection needs.
The CREIA San Diego Chapter is the largest chapter in the state with many professional inspectors in which to choose. The CREIA San Diego Chapter enjoys a long and proud history of producing many CREIA state board presidents and state officers. The San Diego Chapter is a combined chapter with members of the American Society of Home Inspectors (ASHI) providing continuing education, inspector training, monthly chapter meetings, and annual educational conferences to its members.  CREIA San Diego is committed to providing exceptional continuing education and inspector training for real estate inspectors throughout San Diego County.
A large percentage of home inspection in San Diego County are done by a CREIA home inspector.  Hiring a CREIA or ASHI inspector reduces risk as home inspectors who voluntarily certify through CREIA and ASHI subscribe to a high set of standards that lead the home inspection industry throughout the state.
CREIA Inspectors provide the technical expertise, skill, and knowledge for performing a home inspection above and beyond the skill level provided by general or specialty licensed contractors. Be careful to not confuse a licensed contractor with a home inspector. Home inspectors have specialized knowledge, training, and experience to provide home inspections. Many CREIA inspectors were previously licensed contractors and each would be happy to explain why being a licensed contractor does not necessarily provide the expertise needed to be a real estate inspector.
Home Inspection: There are no licensing requirements for home inspectors in California, and anyone can claim to be a home inspector. Therefore, buyers must exercise extreme care and cautious consideration before hiring just anyone. Individuals may claim to be "Licensed" or "Certified" inspectors. CREIA Certified Inspectors (CCIs) and Master CREIA Inspectors (MCIs) must pass a technically rigorous examination process and must maintain their certification status with 30 hours of continuing education each year. Ask to see their CREIA identification badge. Insist on a home inspector that is invested in the real estate inspection profession and is abreast of the latest developments in the technical and fast-paced business of home inspection.
CREIA and ASHI membership is voluntary and demonstrates a dedication to continuing education and adherence to standards of practice and a code of ethics.

Perhaps the Legislature of the State of California stated it best, "It is the intent of the Legislature that, in ascertaining the degree of care that would be exercised by a reasonable competent home inspector pursuant to Section 7196 of the Business and Professions Code, the court may consider the standards of practice and code of ethics of the California Real Estate Inspection Association…"
Buyer's Inspection: The CREIA Certified Inspector (CCI) and the Master CREIA Inspector (MCI) have the specialized knowledge and experience to perform a home inspection and produce a written report outlining material defects discovered in the building's systems and components, and to recommend appropriate action. CREIA inspectors provide home inspections for homebuyers as well as sellers. A home inspection by a Certified CREIA Inspector protects and serves the needs of buyers, sellers, and real estate professionals equally. Whether you are buying, selling, or recommending a home inspector, choose a qualified CREIA Certified Inspector or Master CREIA Inspector. Click here for the publication on How to Choose a Home Inspector.
Listing Inspection: CREIA Certified Inspectors (CCI) and Master CREIA Inspectors (MCI) provide home inspections for sellers as well as homebuyers. Many smart sellers, with encouragement from their real estate agents, are now choosing to do the home inspection at the beginning of the sales process. Providing a home inspection up front at the time you negotiate and accept an offer is the best way of avoiding costly delays and surprises during the escrow process. The number of surprises is reduced, both for the buyer and the seller. Fewer surprises mean less opportunity for disagreement and less likelihood that the transaction will fall apart. It also gives the seller an opportunity to make appropriate repairs at the beginning, so that the home will potentially show better and/or bring a better price. An early inspection may make your property increasingly marketable and reduce the expense of negotiating repairs later. A home inspection that is provided up front from your independent and respected CREIA home inspector will allow you to avoid further negotiation in the middle of the escrow period where the buyer is in a stronger position on the defects discovered in the inspection report.
The home inspection process is designed to protect and serve the needs of buyers, sellers, and real estate agents equally. When defects are not disclosed, by the seller or detected on an inspection, then all parties are vulnerable to difficult and protracted negotiations that could end up costing a lot of time, money, and sleepless nights. Real Estate agents and sellers do themselves a terrible disservice if they use an under-qualified inspector that may miss something or a biased inspector that may minimize or underreport the importance of a serious defect. That is when transactions can blow up in everyone's face. Remember that most transactions that end up in court name all parties to the transaction as well as the Real Estate professionals and the home inspector as defendants. Our objective is to protect all parties to the transaction through a thorough inspection intended to discover material defects. When material defects are missed by the inspector, or not disclosed by a seller, all parties to the transaction pay a high cost. Whether you are buying, selling or recommending a home inspector, make sure you use a qualified CREIA Certified Inspector.
New Construction Inspection: The CREIA San Diego Chapter also has highly qualified inspectors who can inspect the new home you are buying or building. Relying on the city inspector to find all the defects in your new home may not be realistic. City inspectors have a very short time allotted for each inspection they do in a single day. City inspectors do their best in a short period of time and have a narrower focus on the scope of work. CREIA has addressed these shortcomings by developing the CREIA New Construction Specialist designation that includes a rigorous education and testing program. CREIA inspectors with this designation have passed the International Code Council's (ICC) Combination Dwelling Certification Test, ICC. These are the same tests taken by many city inspectors. To obtain this designation, inspectors must pass all four tests (Building, Mechanical, Electrical, and Plumbing). Your new home deserves the attention a qualified CREIA New Construction Specialist can provide.
Real Estate Agents: The CREIA San Diego Chapter provides programs and speakers who are available to your Real Estate office. We can offer qualified speakers to provide education to those in your local office on the home inspection topic of your choice.
Commercial Inspection: Many of the CRIEA SD Chapter members have high levels of experience and are capable of filling your commercial real estate inspection needs. We can offer professional inspectors who can inspect a broad range of properties including apartment buildings, high-rise condos, and commercial properties. Be sure to check with your CREIA inspector for further information and recommendations.
Master CREIA Inspector: CREIA developed the Master CREIA Inspector (MCI) certification to recognize more experienced inspectors who have exhibited a high degree of knowledge of building standards by passing either a special CREIA MCI examination or a combination International Code Council exams, and must have performed 1,000 verifiable inspections. These accomplishments typically take several years as a full time inspector to attain."

Realtors, Buyers, and Sellers may click here for more information.
Chapter Serving
The San Diego Chapter members provide real estate and home inspection services to the following Communities:
Agua Caliente, Allied Gardens, Alpine, Alta Vista, Banner, Barona Mesa, Barrett Junction, Barrio Logan, Bay Park, Bear Valley, Birch Hill, Blossom Valley, Bonita , Bonsall, Borrego Springs, Borrego Wells, Bostonia, Boulder Oaks, Boulevard, Broadway Heights, Buckman Springs, Buena, Cameron Corners, Campo, Canebreak, Canyon City, Cardiff, Carlsbad, Carmel Mountain Ranch, Carmel Valley, Casa De Oro, Castle Park, Centre City, Chollas Creek, Chollas View, Chula Vista, City Heights, Clairemont, Combs Camp, Coronado, Coronado Cays, Cottonwood, Crest, Crown Point, Cuyamaca, Del Cerro, Del Dios, Del Mar, De Luz, Dehesa, Descanso, Descanso Junction, Desert Lodge, Dulzura, Eagles Nest, East Elliott, Eastlake, Eastlake Greens, Echo Dell, Eden Gardens, El Cajon, Emerald Hills, Encanto, Encinitas, Engineer Springs, Escondido, Eucalyptus Hills, Fairbanks Country Club, Fairbanks Ranch, Fallbrook, Fernbrook, Fleetridge, Fletcher Hills, Flinn Springs, Foster, Glen Oaks, Glenview, Golden Hill, Grant Hill, Grantville, Green Valley Falls, Grossmont, Guatay, Harbison Canyon, Harmony Grove, Harrison Park, Hidden Glen, Hidden Meadows, Hillcrest, Hulburd Grove, Imperial Beach, Indian Springs, Irving's Crest, Jacumba, Jamacha, Jamul, Jesmond Dene, Johnstown, Julian, Kearny Mesa, Kensington, Kentwood In The Pines, La Costa, La Jolla, La Jolla Amago, La Jolla Shores, La Mesa, La Playa, La Presa, Lake Henshaw, Lakeside, Lakeview, Lemon Grove, Leucadia, Lincoln Acres, Lincoln Park, Linda Vista, Live Oak Park, Live Oak Springs, Logan Heights, Loma Portal, Lomas Santa Fe, Lomita, Lynwood Hills, Manzanita, Memorial, Mesa Grande, Middletown, Midway, Miramar, Miramar Ranch, Mira Mesa, Mission Bay Park, Mission Beach, Mission Hills, Mission Valley, Mission Village, Morena Village, Moreno, Morettis, Mountain View, Mount Helix, Mount Hope, Mount Laguna, National City, Navajo, Nestor, Normal Heights, North Bay Terraces, North Park, Oak Grove, Oak Park, Ocean Beach, Oceanside, Ocean Hills, Ocotillo, Ocotillo Wells, Old Town, Olivenhain, Otay, Otay Mesa, Pacific Beach, Pala, Pala Mesa Village, Palm City, Palomar Mountain, Palo Verde, Paradise Hills, Paso Picacho, Pauma Valley, Peninsula, Pine Hills, Pine Valley, Point Loma, Potrero, Poway, Puerta La Cruz, Rainbow, Ramona, Ranchita, Rancho Bernardo, Rancho Del Rey, Rancho Palo Verde, Rancho Penasquitos, Rancho San Diego, Rancho Santa Fe, Rincon, Rock Haven, Rolando, Rosemont, Roseville, Sabre Springs, San Carlos, San Diego, San Diego Country Estates, San Filipe, San Ignacio, San Luis Rey, San Luis Rey Heights, San Marcos, San Onofre, San Pasqual, San Ysidro, Santa Ysabel, Santee, Scissors Crossing, Scripps Miramar Ranch, Serra Mesa, Shady Dell, Shelltown, Shelter Valley Ranchos, Sherman Heights, Skyline, Solana Beach, Sorrento Hills, Sorrento Mesa, Sorrento Valley, South Bay Terraces, Southcoast, South Park, Spring Valley, Stockton, Sunnyside, Sunshine Summit, Talmadge, Tecate, The Narrows, The Willows, Tierra Del Sol, Tierrasanta, Tijuana River Valley, Torrey Pines, Twin Oaks, University City, University Heights, Uptown, Valencia Park, Vallecito, Valley Center, Via De La Valle, Victoria, Vista, Warner Springs, Whispering Pines, Wintergardens, Winterwarm, Witch Creek, Wynola
Don't you deserve the peace of mind that comes from using a CREIA Certified Inspector? Use the "Best In The West."